A really fun article originally posted by Streamhorse.tv — There is a lot of history and a few faces you'll likely recognize!!
SKIJOR Style: Cool & Edgy ~ Alpine Chic ~ Western Flair
October 3, 2023
|
COMMUNITY CONVERSATIONS, EQUESTRIAN LIFESTYLE, RIDER'S LOUNGE
While many of us are changing our wardrobes over from summer to fall, people who skijor are dusting off their gear and airing out some items uncommon to most dressers and closets.
By: Loren Zhimanskova
While many of us are changing our wardrobes over from summer to fall, people who skijor are dusting off their gear and airing out some items uncommon to most dressers and closets.  Over the next few months, those involved in the sport may be searching for the perfect signature piece that will set them apart on the course, on the announcers' stand or in the gallery of spectators.  Many embrace this opportunity to define their unique style.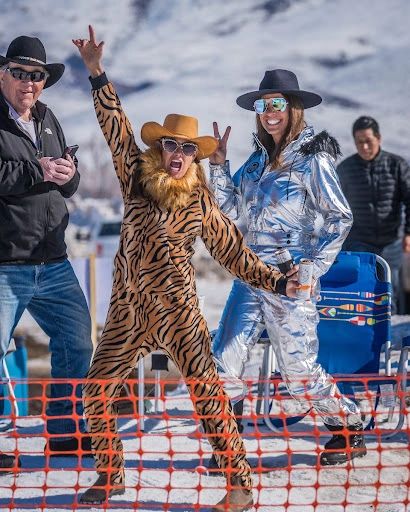 Skijor fashion is unlike any other, a combination of grunge and chic, traditional and technical, western and alpine.  The broad range of colors from earth tones to bold hues and textures, from shiny and sleek to soft and furry or silhouettes, from skin tight to oversized, is a direct reflection of the mixed bag of participants and onlookers the sport attracts.  There is no other statement quite like it, and despite some crazy combos, somehow, the SKIJOR community pulls it off in rare form!
SKIJORING IN ADVERTISING
Fashion and SKIJOR have always gone hand in hand.  Skijor International's vintage collection shows that dressing up for the sport was popular and even encouraged a century ago at events like White Turf in Saint Moritz or at American resorts like Lake Placid, New York.  Because of this style forward tendency, the sport was often selected for advertisements, and images of people skijoring decorated the inside of cigar boxes, graced cards in the 1950s advertising German cigarettes such as Turf, or French biscuits like Gregoire.  Skijoring was chic enough to be associated with many leisure lifestyle brands.
TURN OF THE 20TH CENTURY SKIJOR  FASHION
One hundred years ago, women skied in long skirts or split culottes and tailored jackets, and men typically in knickers and tailored coats or sweaters.  This stylish yet practical attire was usually accessorized with flowing scarves, fancy gloves, fur accents and fashionable hats for ladies, and caps and ties for men.  It was also customary to add accessories to the horses' tack such as bells and tassels.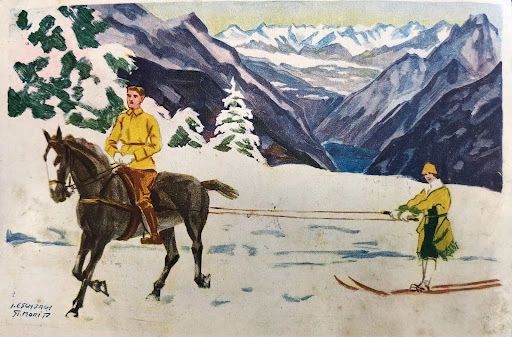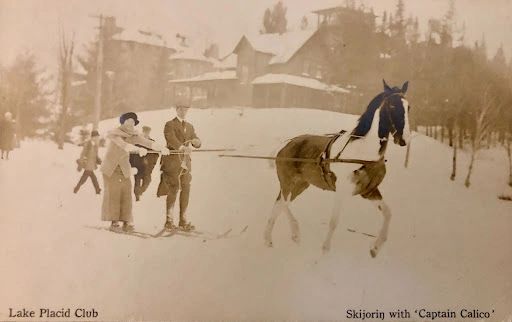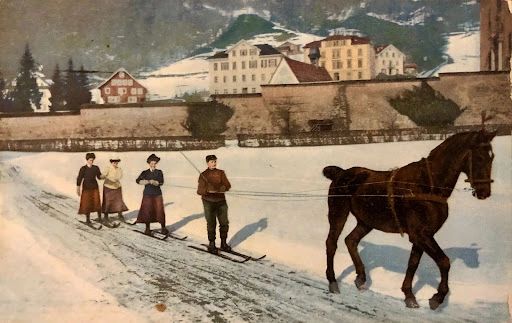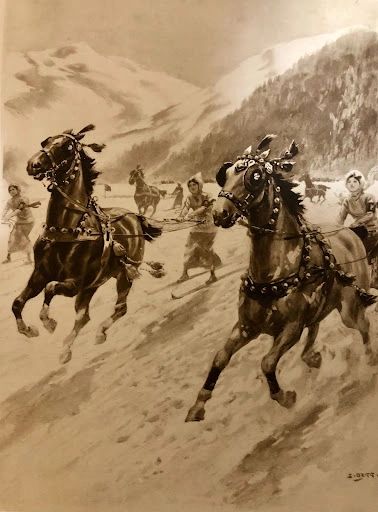 SKI & EQUINE APPAREL IN VOGUE 
As time moved on and ski gear modernized and evolved, so did skijor apparel.  Here is an example of how a female skier would have dressed in 1928, and a similar interpretation worn by a woman on horseback about to pull her companion skier.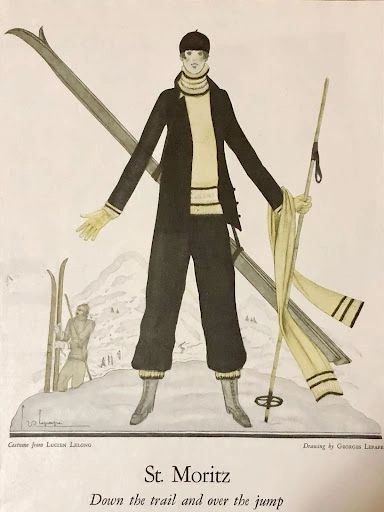 Men's styles began to take on a more sportive look as the sport became increasingly competitive with tennis sweaters, jodhpur style pants and military berets becoming commonplace for the athletic skier reining the horse from behind.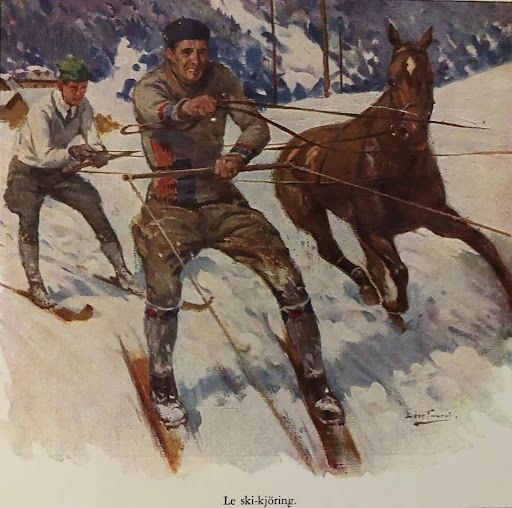 AMERICANA & WESTERN SKIJOR STYLE
In the 1930s and 1940s, the Western style of skijoring emerged in resorts like Jackson and Aspen adding a new style to the mix.  Bear in mind, prior to this, competitive skijoring typically did not involve a rider.  Wrangler and Levi jeans, thick leather vests and stiff durable cotton canvas Carhartt jackets, plus classic cowboy hats, boots, chaps and pearl buttoned snap shirts as well as scarves, better known as wild rags, contrasted with skiers who were dressed in waterproof pants and down filled jackets or wool sweaters and turtlenecks and knit skull caps.  A new style, unique to American skijoring, combining two iconic sporting cultures, began to emerge.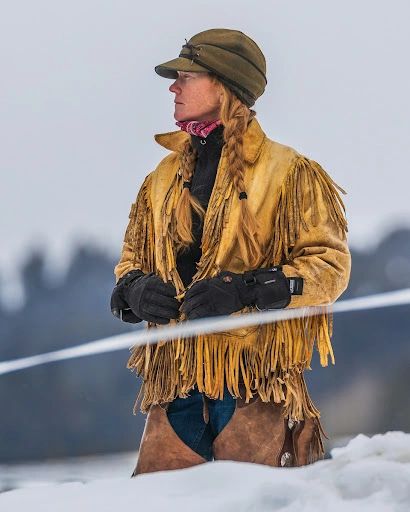 OH CANADA!  ADDS A TWIST
In more recent years, especially as athletes have begun to swap places or compete as both rider and skier, a comprehensive skijor style is being born.  People are investing in vintage pieces or custom garb.  Skijor Canada encourages competitors and spectators to get creative by sponsoring a contest for best dressed at their annual event in Calgary.
In an interview with CBC News, Sam Mitchell, creator and organizer of Skijordue states:
"And then there's the fashion. Skijor style is a thing. So we've created a culture, and the chief factor really is to make it fun. You know, nobody takes it too seriously, and we have three awards in different categories for best dressed: Wild West, Euro-trash and Fusion. So you're going to see a lot of fringe, a lot of fur, a lot of spandex, some '80s stuff out there. I mean, it is magnificent. The crowd turns out beautifully."
Faux and real furs such as coyote, bear, bison and arctic fox are among the exotic pelts worn at events.  Heavy wool coats in the traditional horizontal striped pattern of red, green and yellow on a white background are popular in Canada, while Southwestern patterns decorate jackets and sweaters in the American West.  Some riders wear wool "greatcoats" which have "trains" that drape over the back of the horse once in the saddle.  Wooly and fringed leather chaps, wild rags, and Canadian style "mountie" hats or Stormy Kromer caps with flaps tied up in a bow or worn over ears are also commonplace.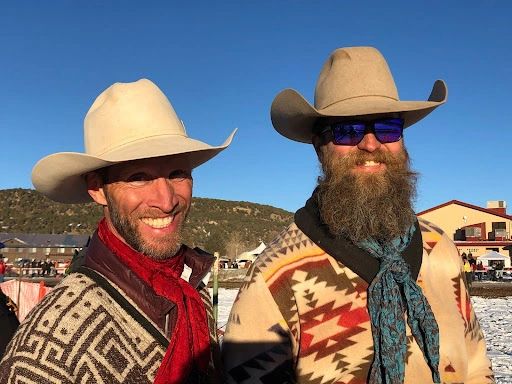 BORN IN THE U.S.A. 
A competitor's choice of apparel, ski or snowboard equipment or tack can become a signature look for the circuit.  One Montana competitor, Tayler Stobaugh, sports red, white and blue American flag and bald eagle motifs from head to toe.  She extends this to her horse tack on Little Bo Peep.
A cowboy and former champion bull rider from Wyoming, Jed Moore, wears the same distinctive ski vest every race and pairs it with wooly chaps.  Jed both rides and skis/snowboards, but does not change his look which is reminiscent of the Cowboy Downhill competition held every year in Steamboat Springs during the National Stock Show in Denver, Colorado.  Jed may very well have won this competition in years past as well!
One rider named John Hyde from Pinedale, Wyoming, wears a hot pink Western shirt whenever he skijors to support those who are battling cancer.  Many rodeos, like the Wrangler National Finals Rodeo in Las Vegas, sponsor a day during which pick up men and competitors are encouraged to wear pink shirts as part of the "Tough Enough To Wear Pink " breast cancer awareness and fundraising campaign.
Another Montana rider, Ebbie Hansen, who is a former barrel racing champion and artist in her own right, paints her horse tack in a Southwestern palette of turquoise and red and gold.  She adds fringe, leather, and decorative touches to her cowgirl hat and apparel to complete the look.  Check out the video below called "The Ride" which tells Ebbie's fascinating story through the artistry of documentary film maker, Erik Petersen.
Skiers from Saratoga, Wyoming pride themselves on skiing in jeans and the signature ball cap sold at the event advertised, "I Skijor In Jeans".  Other competitors wear Carhartt overalls, pants and jackets routinely.  They are the perfect wind and water resistant answer to Wyoming wind chill, and since they are already well worn, they offer the warmth and flexibility the riders and skiers need to compete successfully.  Camouflage is in vogue at any skijoring competition, but in contrast, skier Tyler Smedsrud of Ridgway, CO, prefers to ski in a pressed dress shirt.  No, we haven't seen him break out the cuff links or ascot yet, but you never know?  His "go to" riding partner, Richard Weber, typically wears a signature red shirt, bolo tie and black cowboy hat.
In Wisdom, Montana, one Irishman skis in a Tartan kilt.  Another skier wears traditional LederHosen, and another fringed chamois pants, which he bought at a vintage shop. Michael Miller of Montana wears either a faux fur jacket or leather fringed bomber jacket while he rides.  He leaves them unbuttoned so that they give him freedom of movement, and they flap behind him mimicking the motion of his horse's tail which whips in the wind.  His skiers wear 70s style one piece ski suits, or Carhartt work overalls, well worn in doing ranch chores, and camouflage jackets and hoodies popular during hunting season.
Spectators also get into the skijor spirit breaking out unusual pieces suited to the occasion.  Muck boots and Sorels mix naturally with floor sweeping coyote coats, while sparkly hat bands and feathers decorate cowboy hats.  Dangling earrings, fringed gloves, studded belts and colorfully stitched boots complete the look.  A SKIJOR venue could be a scene straight out of Las Vegas, but on snow rather than sand.  And at SKIJOR after parties, neon is a common sight at local cowboy bars.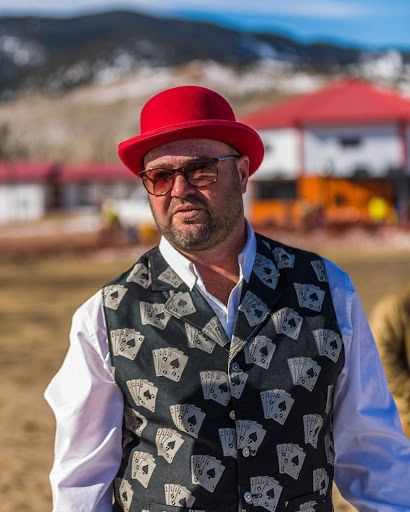 VIVE! CONTINENTAL EUROPE JAWOHL!
In Europe, the White Turf event is also known for its fashionable flair.  Rather than Western, the trend is European Alpine chic.  Floor length chinchilla, mink, fox and sable coats are commonplace in this Swiss mecca of wealth and winter sport.  In contrast to American skijor events in which competitors and spectators meld seamlessly, in Switzerland, the jockeys and skijor competitors stand out starkly in their brightly colored athletic attire.  Diamond rings and bracelets, and brightly polished watches glisten in the sun, as glasses of champagne are passed over bars fashioned from solid ice in the VIP area adjacent to the race course.  Check out the videos below, one from White Turf and the other an Armani fashion show in St. Moritz.
ALREADY MISSING WINTER IN ST MORITZ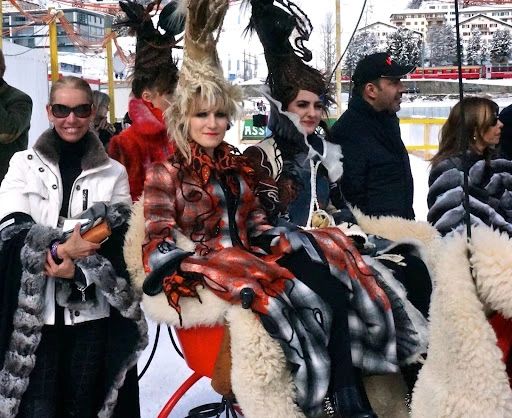 In contrast to this modern opulence, traditional Goral or "Highlander" style of dress is emphasized in Poland during skijoring events.  Men wear lederhosen, and women, long flowered dirndls or full skirts.  Richly embroidered sheepskin jackets and pants, wool or fur caps, brimmed wool hats decorated with bands of cowrie shells and an eagle or grouse feather, floral head scarves and lacy blouses and boots complete the look of the Podhale region, which is located in the Tatra Mountains of southern Poland.  Horses tack is also decorated in a traditional manner with tassels and bells and other ornamentation.
Check out this video of a magnificent Tatra Wedding Preparation and Ceremony to truly appreciate the beauty of it all!
What does the future style of SKIJOR look like?  It is anyone's guess, but SKIJOR.com will be launching a line of products this fall embracing the uniqueness of the sport.  We will offer one-of-a-kind vintage pieces, too.  The merchandise will reflect the skijor culture in the United States, the classic world of cowboy/cowgirl meets the trendy ski and snowboard lifestyle.
For more information go to: www.skijor.com, www.skiorusa.com, www.skijorinternational.com or email Loren Zhimanskova at loren@skijorusa.com or call us at (646)209-0229.
READ MORE ABOUT SKIJOR:
A Dynamic and Unusual Equine Sport
RAISE 'EM UP: From Babies to Buckles & Beer to Boom Towns
A Diverse Equine Sport Combining Three Heartbeats
A Sport of the American West in Which Patriotism Thrives
A Multi-National Equine Sport of 125 Years + Olympic Ties
SURF & TURF: Horses Pull Skiers & Boarders on Water, Turf & Earth
About the Author
Loren noted the potential to bring skijoring to the forefront of the  sporting community while volunteering and spectating at numerous  equine skijoring events in the winter of 2012. She established Skijor  International that year, building the first website with a comprehensive  and encyclopedic presentation of the sport. Loren organized Skijor  USA in 2018 with the goal of structuring and expanding the  competitive circuit. In 2023, she launched SKIJOR, which seeks to  expand skijoring as a recreational activity drawing upon the sport's  100 year old roots focusing on the "driving" or "riderless" style.
In a relatively short period of time, Loren has become well acquainted  with the sport's past and present participants, both skiers and  equestrians alike, the organizers and dedicated operational staff.  The  relationships Loren has cultivated over the past decade are a key  component to the success of Skijor USA and SKIJOR. She aspires to  see skijoring recognized as an international sport which may  eventually play a role in the 2030 or 2034 Winter Olympic Games. She has established a Skijor Hall of Fame and is organizing an  exhibit on the history of the sport for European and US ski museums.
Loren is a graduate of Yale University (B.A. '86 History of Art) with a  background in building and managing businesses as well as  spearheading and executing sales and marketing plans for companies  such as Ralph Lauren and Tiffany & Company. Her professional  experience lies in the fields of fashion, photography and history of art  as well as in marketing resorts focused on skiing, horseback riding,  tennis and golf. For the past five years, she has worked for the USTA  (United States Tennis Association) during the US Open Tennis  Championships in Flushing Meadows, New York. Loren built and  owned her own publishing business, is an author and an experienced  photo editor. Loren divides her time between the Rocky Mountain  West and New York City. She is a skier, loves equestrian sport and  international travel and is conversant in French,